Home

/

CHRISTMAS CUTIES ASSORTED DEC ON (480) - SNOWMAN, STOCKING, TREE, HOLLY, SANTA SUGAR DECORATIONS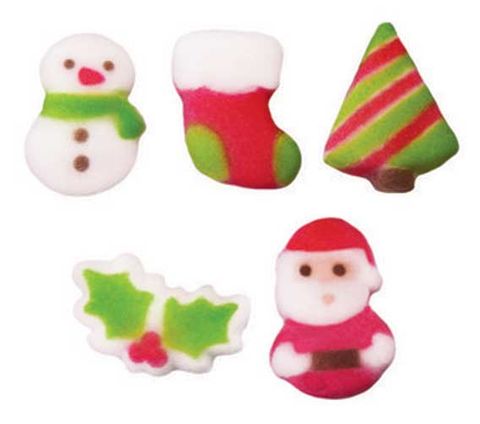 CHRISTMAS CUTIES ASSORTED DEC ON (480) - SNOWMAN, STOCKING, TREE, HOLLY, SANTA SUGAR DECORATIONS
$0.50
Details
Description
* Can Dec-Ons decorations be frozen? Yes, Dec-Ons decorations can be frozen. They can be used to decorate frozen products, such as ice cream cakes, and will also withstand the freeze/thaw process.* Are there any allergens in Dec-Ons? decorations? Egg whites. Dec-Ons decorations are manufactured in a facility that produces products containing eggs and soy products. Formulations that do not contain allergens are produced first on the equipment at the beginning of the day. Once complete, production moves into the formulations that contain allergens. A complete wash down and sanitation of the equipment is conducted at the end of the manufacturing shift. The following ingredients are NOT used in this manufacturing facility and will not come into contact with the products being produced: wheat, milk, fish, shell-fish (crustaceans) peanuts and/or tree nuts. Lucks products are also gluten free. Lucks Edible Dec-Ons decorations are Orthodox Union Kosher Certified. Please note-These decorations are packed in boxes with an assortment of designs/colours. When buying individual or small quantities, please specify the design/colour you prefer in the delivery instructions and will be do our best to accomodate your request. When buying boxes, please be aware that boxes will be sent as per the breakdown from the manufacturer and cannot be split or adjusted.
Delivery Information
DELIVERY
Delivery fees are charged based on order total and cover metro areas across New Zealand
Additional charges may apply for delivery to remote locations.


PICK UP FROM STORE
You can also choose to collect your order from our store during trading hours
Store Location
113 Newton Street
Mount Maunganui
Tauranga 3116

Trading Hours
Click HERE for the latest store opening and closing hours.
For any questions relating to delivery please contact us on 07 5753145
Other Customers Also Purchased