Home

/

CHOCIT | IVORY | MODELLING CHOCOLATE | 1KG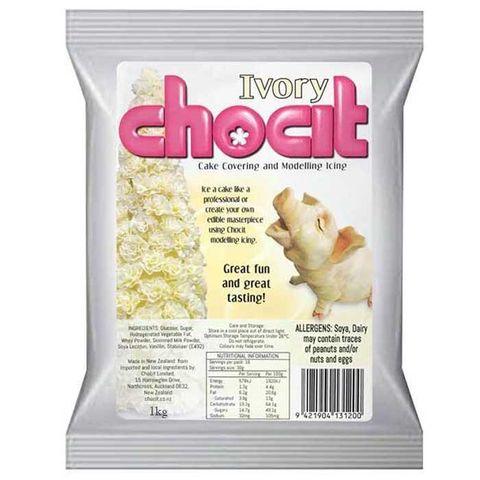 CHOCIT | IVORY | MODELLING CHOCOLATE | 1KG
Stock Code:
XCHOC IVO-1KG
$44.28
Details
Description
What is Chocit? Chocit is an ideal cake covering - (requires 150g for 15cm x 10cm round cake). Chocit is also a premium modelling and decorating medium for cake toppers and cupcakes.. A perfect decorating solution for all your edible masterpieces! Why choose Chocit? Chocit modelling chocolate is a sweet, pliable and colourful dough made from fine chocolate, in New Zealand. From figurines to roses and kids baking and decorating, Chocit is easy and fun for everyone. Figures made with modelling chocolate are more robust than straight fondant figures and it comes in a wide range of vibrant colours. Store in a cool, dry place out of direct light. Optimum storage temperature is under 26 degress C. Do not refrigerate. Colours may fade over time. May contain traces of peanuts and/or nuts and eggs Gluten Free
Delivery Information
DELIVERY
Delivery fees are charged based on order total and cover metro areas across New Zealand
Additional charges may apply for delivery to remote locations.


PICK UP FROM STORE
You can also choose to collect your order from our store during trading hours
Store Location
113 Newton Street
Mount Maunganui
Tauranga 3116

Trading Hours
Click HERE for the latest store opening and closing hours.
For any questions relating to delivery please contact us on 07 5753145
Other Customers Also Purchased