Home

/

FILIGREE FLORAL STENCIL SET | 4 PIECES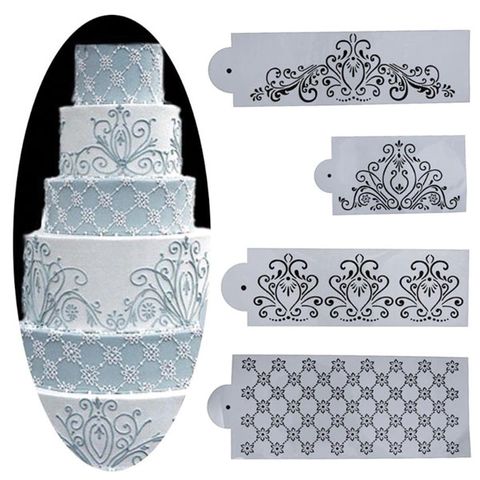 FILIGREE FLORAL STENCIL SET | 4 PIECES
$13.81
Details
Description
CAKE STENCILS are an easy and creative design solution to decorate your masterpieces. They can be used with a variety of mediums and are durable and reusable!
* A wide range of designs to choose from that cater for every occasion
* Easy to clean and solvent proof
* Great for beginners and professionals
* Laser cut and durable, flexible and reusable
* Variety of applicaitons, from airbrushing to edible artwork
* Food Safe
USAGE AND STORAGE TIPS:
* Hold and secure flat against the surface before any application
* Do not move stencil while in use
* Go over gently if using scraper to avoid damging the pattern
* DO NOT overwork over your pattern as it may cause bleeding
* Clean stencil after each use
* DO NOT wipe stencil dry to avoid damaging pattern
* Store stencil appropriately, away from direct sunlight
Each Stencil Size: Approx. 8.5x10cm
Watch Video
Delivery Information
DELIVERY
Delivery fees are charged based on order total and cover metro areas across New Zealand
Additional charges may apply for delivery to remote locations.


PICK UP FROM STORE
You can also choose to collect your order from our store during trading hours
Store Location
113 Newton Street
Mount Maunganui
Tauranga 3116

Trading Hours
Click HERE for the latest store opening and closing hours.
For any questions relating to delivery please contact us on 07 5753145
Other Customers Also Purchased